FORAGING HIKE WITH DAN LIPOW OF DININGWILD
DATE: Sunday, Sept. 13, 2015 (Rain date Sunday Sept. 27, 2015)
LOCATION: South Mountain Reservation, Essex County, NJ. Meet at the dog park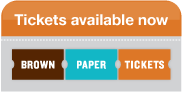 TIME: 9:30 a.m. to noon
COST: $10 per person.
Join local wild food enthusiast and forager, Dan Lipow, owner of DiningWild, for a three-mile, moderately paced hike, as we focus on seasonally available wild food. Dan will share his knowledge of edible plants and fungi as frequent stops are made to learn about and collect nature's bountyr. Mushrooms, nuts, roots and greens will hopefully fill the bags and containers you bring with you. Proceeds from the hike will benefit SFNNJ's school and community garden fund. Snacks
and plenty of water recommended.
Limited to the first 25 people who register. Tickets must be bought in advance at Brown Paper Tickets
BUY HERE
Deadline for ticket purchase is midnight Sept. 12.
For more information, email: northernnewjerseynj@slowfoodusa.org